South Korean killing fields
From Communpedia

The South Korean killing fields were a number of sites where large numbers of people were killed and buried, during the Korean war. Little is known about the mass murders that the South Korean government commited, and most of their victims were unarmed civilians, accused of being communist[1]. There were at least 160 mass murder and burial sites in South Korea[1].
Mass murders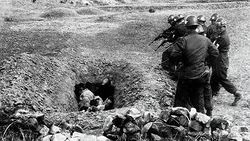 South Korean troops are believed to have executed tens of thousands of unarmed civilians and prisoners as they retreated before the
North Korean
invaders during the war. The victims were often accused of being communist sympathizers and potential collaborators.
But allegations of mass murder had never been given a full review in the official history of South Korea until the commission began its work last year with a mandate from Parliament.
Investigators have since identified 1,222 probable instances of mass killings during the Korean War, after canvassing witnesses and excavating remains. The cases include 215 incidents in which survivors say U.S. warplanes and ground troops killed unarmed refugees[1].
Chung Nam Sook, 80, said that in December 1950, soldiers of South Korea's 11th Army Division stormed his village in Hampyong, in the southwest of the country, to hunt Communist guerrillas[2]. North Korean collaborators had already fled, but the soldiers rounded up the remaining villagers in a field.
They told us to light our cigarettes. Then they began shooting their rifles and machine guns. After a while, an officer called out, "Any of you who are still alive can stand up and go home now". Those who did, were shot again[2].
Despite seven bullet wounds, Chung survived by pretending to be dead under the heap of bodies. After being repeatedly ignored by previous governments, him and other victims' relatives were rewarded when the commission finally ruled the killings unlawful, although those perpetrators of the crime still alive can probably never be brought to account.
References